For a change I'm not talking about music, but about the actual beverage. I ran out of food so today after I got out of the studio I went shopping to my usual supermarket "nearby". (Reminds me, this was the last day of my tutorial month, I'm gonna get assigned to a studio finally next Wednesday.) As I was about to pick up my usual six-pack of Sapporo Black Label, I noticed a few interesting-looking bottles nearby.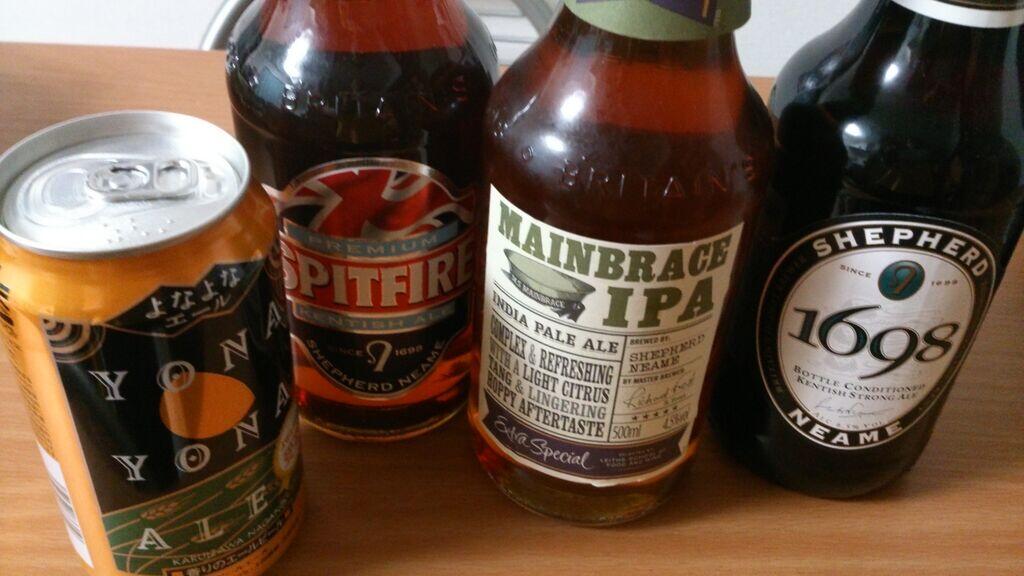 I ended up with the four above. Quattro recommend me Yona Yona when we were talking about beers the last time, and the rest just looked interesting. There are more, but I'm in no hurry. Tonight I opened the Spitfire, which, just as the Bottle of Britain title suggests, is a British product.
I'm in no way qualified to judge beers, and I don't think I'd even had any ales before coming to Japan at all, having grown up on cheap lagers. I kind of figured out what the general characteristics of ales are taste-wise (at least I think I picked up some of them), and despite having those, Spitfire brings me the tastes that mean beer to me, which are pretty rare to find in local brews.
Considering how nicely bitter it is, I expected a bit thicker (after)taste, but I'd have to concentrate to separate something characteristic. I guess its lightness itself is its character, and definitely I can imagine sitting in a pub all evening chatting with friends over a few pints of it. I think I managed to pick a good beer to start consciously educating myself about various brews and what to look for in them.
There are more enlightened reviews linked from the beer's website for all who care.