Last year I wasn't really paying attention to anything music, so I must admit I didn't realize that Helloween released a new album. While Straight From Hell didn't impress me much at first, it's by no means bad.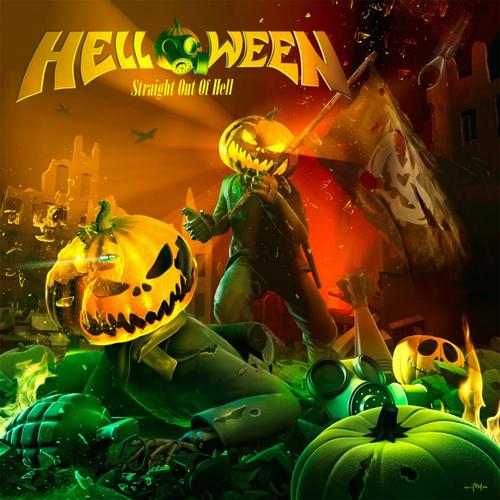 Before I listened to it for the first time, I skimmed through the biography on the band's website so that I'd get some insight into the background of the songs. I can't say it helped as much as I hoped it would.
I was caught off guard by the first tunes of Nabataea, which echoed the spirit of the Arabic world that was once Nabataea in the Middle-East. At the first listen the album seemed bland. It has many songs with deep topics, but while nothing seemed catchy at first, the use of common tunes in some of the songs, and the over-the-top vulgarity of Asshole made it feel like Helloween just wanted to put out another album but had no real material at hand.
I was a bit skeptical though that a Helloween album would actually be bad, and I refrain from writing first-impression reviews ever since I trashed Gojira's From Mars To Sirius years ago. Instead I decided to listen to Straight Out of Hell for a whole week. Just as I thought, it grew on me.
The lyrical themes are just as deep as they seemed at first, and that applies even to controversial pieces like Asshole. There's war and genocide, there's greed, there's love, there's grief. Even lighter ones like Live Now have meaning to the lyrics, and that's something I expect from Helloween after the Dark Ride.
Helloween's always been great in putting a wide variety of songs on their albums, and Straight out of Hell is no exception. They range from unexcusing blasts of power metal to overwhelming ballads. There are themes and phrases that I just can't get out of my head, such as the starting tunes of Nabataea or the chorus of Asshole – just pay attention to the rolling rhythm under the lyrics and you'll learn to appreciate the song even if the vulgarity annoys you. I'm especially in love with the drum track. Dani Löble did a great job (as expected), and I'd like think that letting him carry Wanna Be God for the majority of the song is a tribute to that.
So while my first impressions weren't generally positive, letting it sink in made me realize just how Helloween it is. That is, if Helloween counts as a positive adjective for you, you're bound to love the album.