This year's Loud Park came with a lineup that I just couldn't ignore.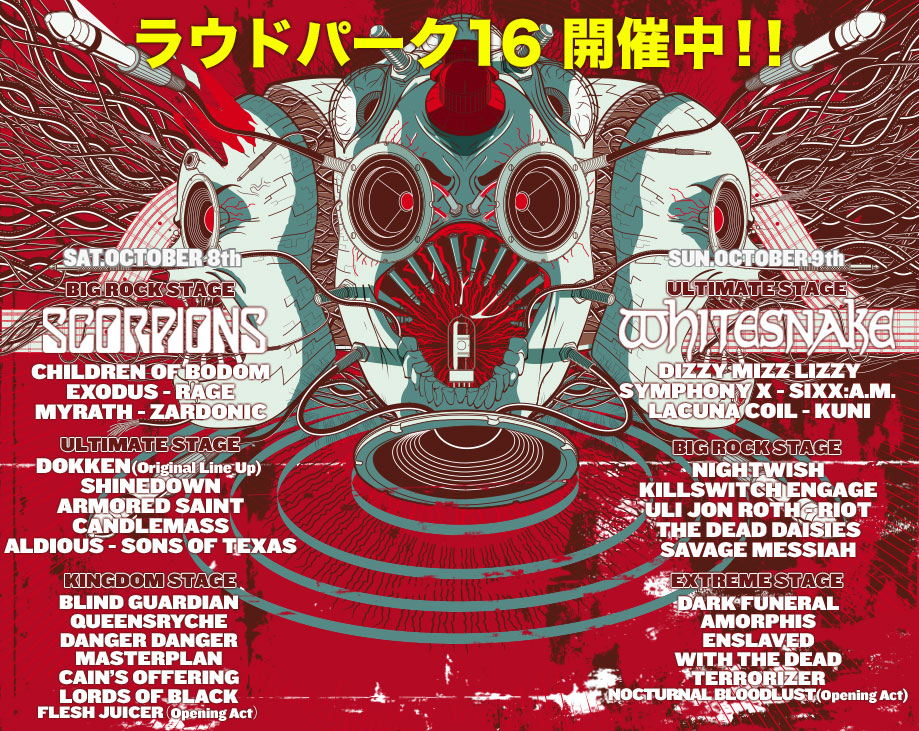 Personally the biggest reason for shelling out the considerable price for the two-day ticket was Blind Guardian. I've wanted to see them live since I was 12. If someone asked me what my favorite bands were, I'd usually answer along the lines of Iron Maiden – Blind Guardian – The Toy Dolls. And while Guardian are German, I'd never have a chance to see them in Hungary while I lived there.
And while I'm there I also get to see rock legends like Scorpions, Whitesnake or Queensryche? Hell, count me in. Bodom, Nightwish and Killswitch Engage were sure to make the mood too.
From the spotlight on: Blind Guardian were fantastic. They said they'd play their whole Imaginations from the Other Side album, which made me happy on the one hand because I love that album, but also sad as their other albums have songs I'd wanted to hear. All the happier I was when as closing they picked my all-time favorite from the band, Mirror Mirror. I think if someone told me to summon a patronus (which, according to Pottermore, would be a black swan) I'd recall moment to pull it off.
My second priority were Queensryche. I'm nowhere near as educated in their discography as I maybe should be, but I still knew most of the songs they picked for the show.
Then on to a huge letdown, Rage. They played not a single song I knew, and even the ones they picked, the performance was lacking at best. It felt like the guitarist hasn't played any of them before and it felt like all solos were just a beginner's attempts failing sadly.
His shortcomings were highlighted even further by the majestic solos of Uli Jon Roth (both solo and with Scorpions). I'm not a guitarist and I don't have much love for solos that consist of nothing but math-precise lightning-fast shredding up and down some scale. UJR's solos (and also the solos of Whitesnake) were music, enjoyable as parts of songs.
Symphony X was a letdown too, in that sense too. They play math-progressive symphonic metal so I expected the solos at least. What I didn't expect was the horrible soundwork. Overamplified worse than what I'd ever heard at even Sex Machineguns shows (the only gigs where my ears'd ache), in front of the stage I couldn't even hear the vocals just the noise of the guitars and the blasts of the bass drums. Once in the back in the other side of the stadium, the volume and balance reached almost-enjoyable levels, but the experience was ruined once and for all. It was so bad I didn't even recognize some of the songs I knew until halfway in.
I don't want to sound negative, because I enjoyed Loud Park a lot. It's just that it's easier to complain lengthily than sing odes about how great a show was. And most of them were great. It's been ages since I last saw Nightwish live, and while the singer's changed again since then, their songs have not. As for Killswitch Engage, I just know the band by name, and what kind of music they play, but not a single one of their songs. The great thing about their kind of music is that if you've got a basic sense of rhythm you can go nuts nonetheless, they're so moshable.
And that happened alright, so much my knees got wrecked and I could barely walk properly for a week afterward. It was a great party! Totally worth.