The route up to almost 7000m altitude on Aconcagua is a long one. I'll write about the "world below" (Mendoza and the area) later. Our route, the "Polish traverse" goes up the Vacas valley to the base camp at Plaza Argentina. On the way we had lunch at some roadside restaurant where we met another team (of two + guide) who were going up the "normal route."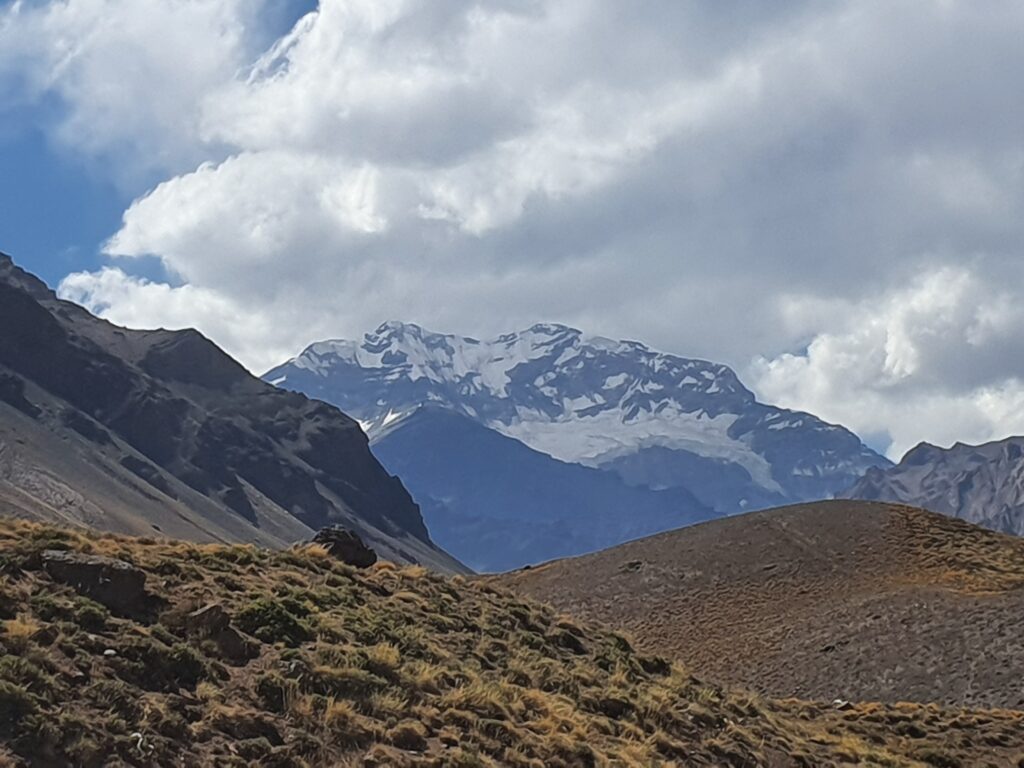 We rested one night at the ski village called Los Penitentes near the trailhead. It's very close to the Chilean border, already at a pretty high altitude (above 2500m). There's even a graveyard of Aconcagua climbers who never returned… (Spoilers: all of us got out of there alive.)
Day 1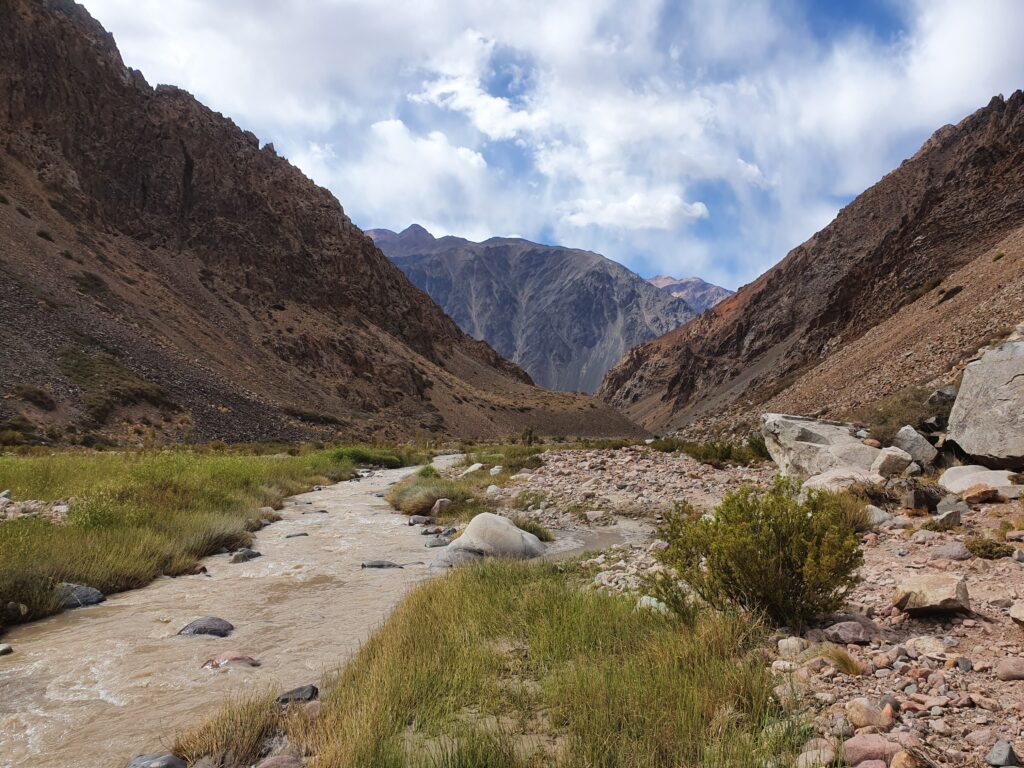 The trail was extremely dusty and/or covered in mule droppings. The sun was blazing and the wind was strong as well. On the upside, there was a flush toilet at camp much to my surprise.
Day 2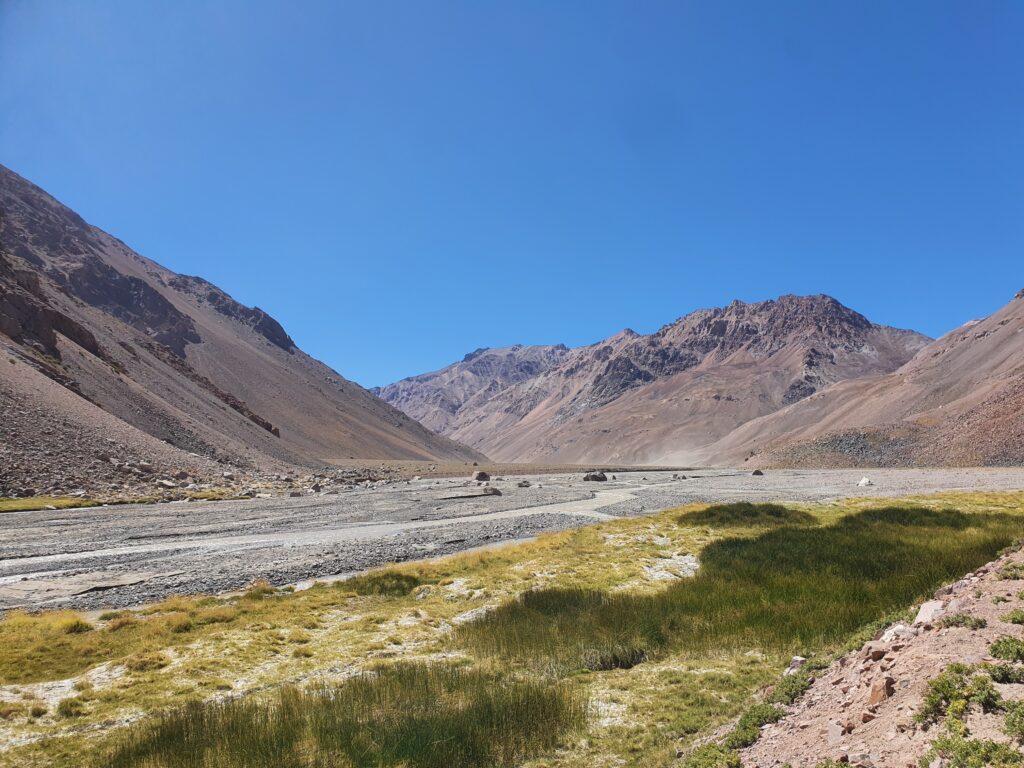 More of the same. Days are hot, nights are cold.
Day 3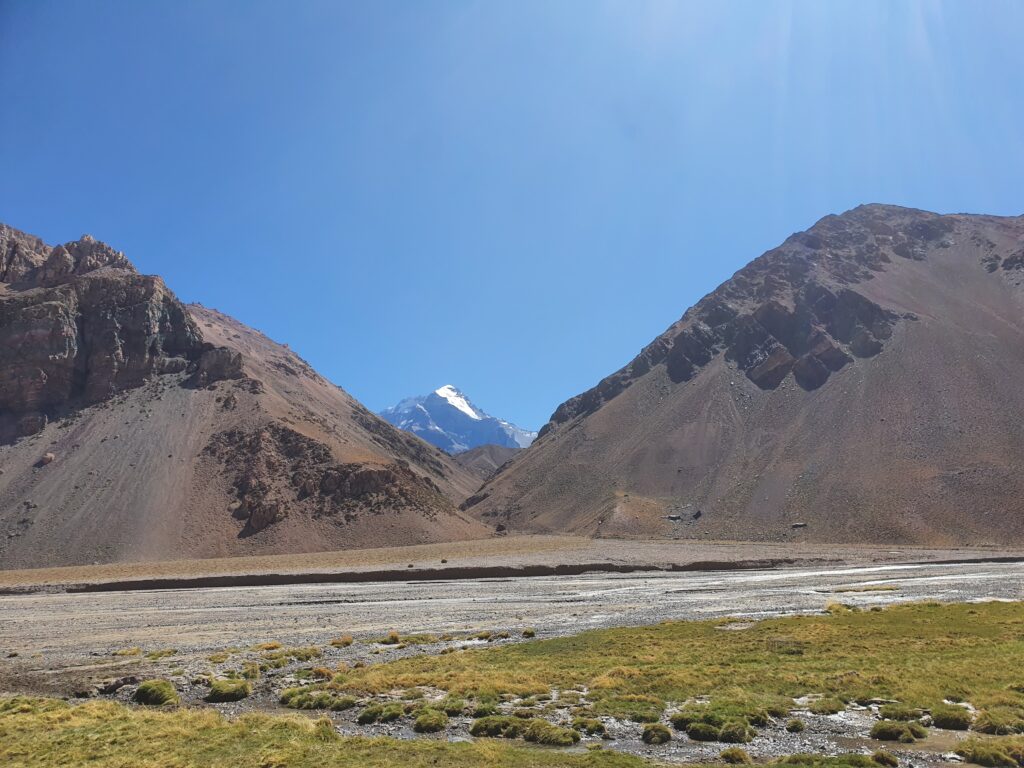 In the morning we started by crossing the river, which was a pretty chilly experience. Luckily the water level wasn't too high nor the flow too strong so we were done with it pretty quickly.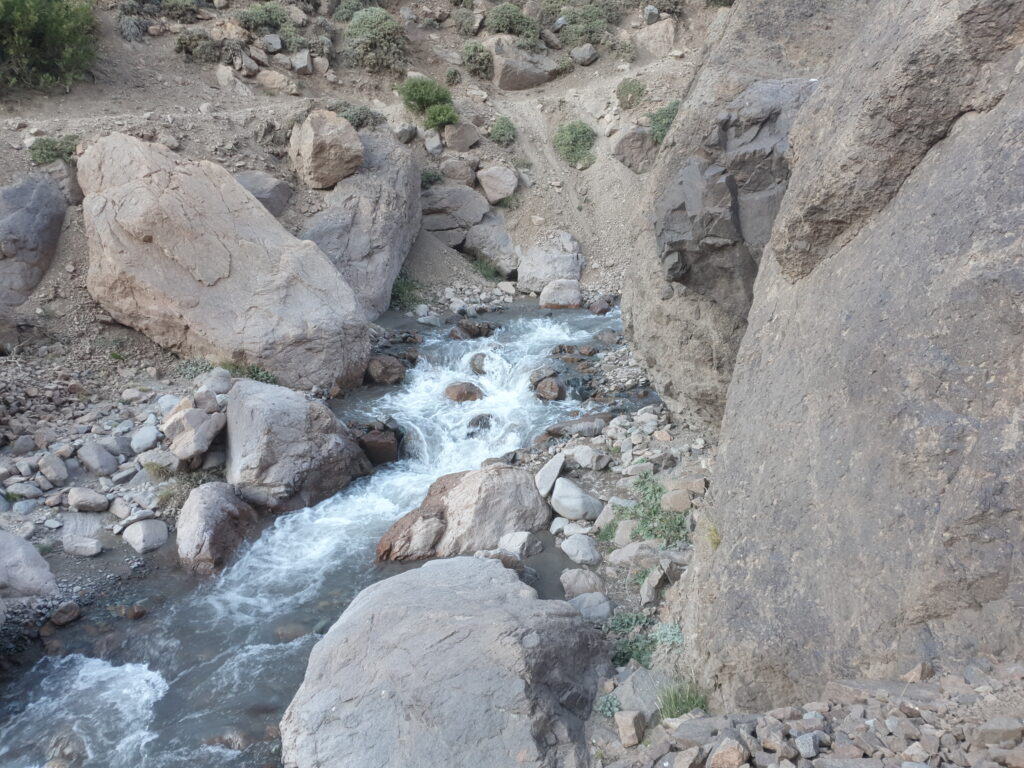 We then went up a narrow gorge which then opened into a plateau later. When we stopped for lunch I realized I didn't feel much like eating at all, which was really weird considering how long we'd been walking. I got a headache too… good old signs of altitude sickness.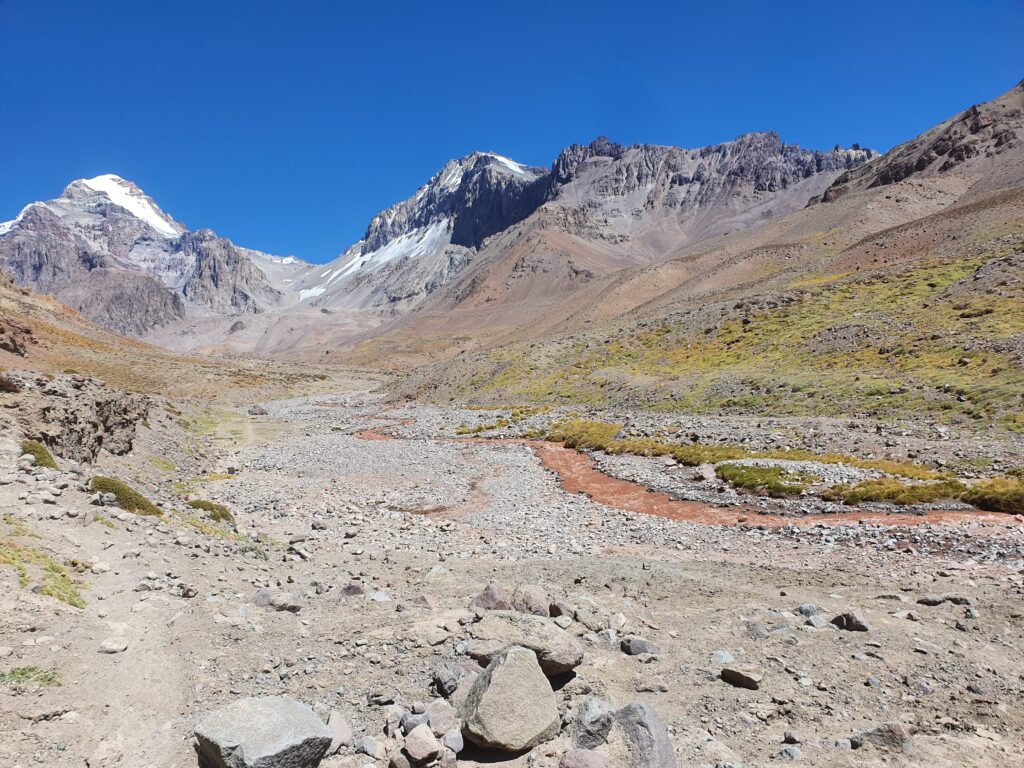 Day 4
Rest day at the Plaza Argentina base camp. I was very sick. I woke up multiple times during the night feeling thirsty. I couldn't eat anything for breakfast and even for lunch I could only force down some sweet fruit salad (which made me feel slightly better).
We took a little stroll out of camp to a boulder that some people climbed too. I was feeling too weak to give it a try. In the evening we packed up for the load carry the next day.
Day 5
Altitude gain: 750m (and back)
On Aconcagua everyone shares the team gear, meaning you have to carry some of it unless you pay extra to hire a porter to carry it for you. For high camp 1 and 2 we'd have load carries: carry up some of the gear, chill a little (half an hour or so) at the camp then go back down.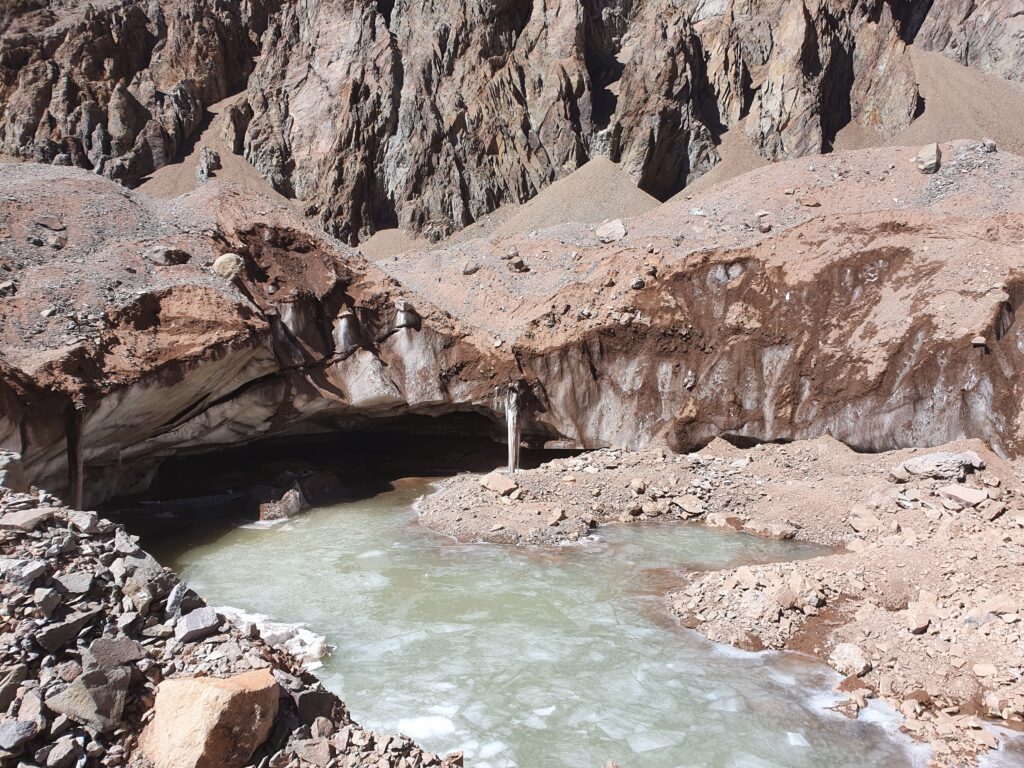 The first load carry was hell for me. I was still feeling sick and weak (though not as sick and weak as a team member who had to be airlifted out), and the terrain didn't make it any better. There were a few pretty steep bits with very crumbly dust-sand-rock which was like walking in deep powder snow (very tiring).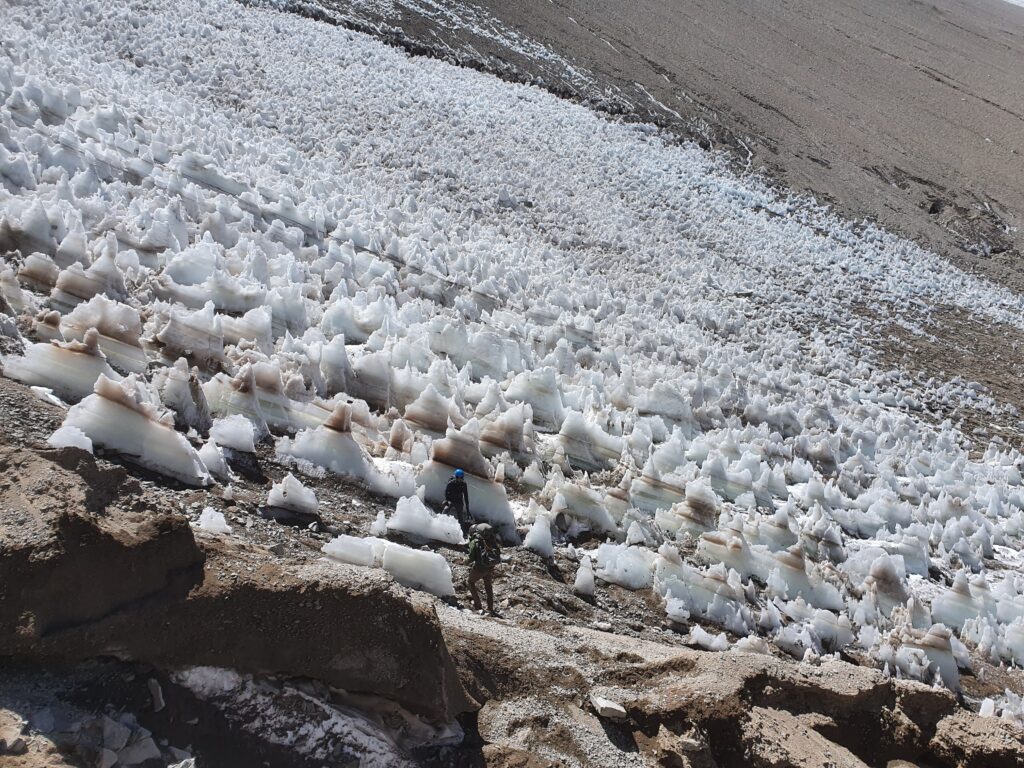 On the other hand, it was a really exciting terrain as well. We were actually climbing up on top of a glacier (which I didn't realize at first since the ice is covered in the deep rocky dust) and there is a field of penitentes next to the trail as well.
Higher and higher
After one more rest day in base camp, we moved up for good. In the coming days we'd often think fondly of the comforts of Plaza Argentina: the food was great and even hot showers were available!
Luckily the second rest day helped me recover somewhat. I was paying attention to pump extra fluid into my body and forced myself to eat as much as possible. It took a few more days to get back in shape, but get back in shape I did.