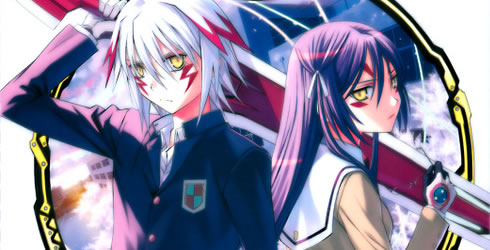 Saturday morning i was just downloading my usual dose of Bleach and Naruto manga from MangaShare, when on the first page the featured manga caught my eye. It looked awesome. (Since then i just go to the front page and reload a couple of times to see if something interesting pops up, eg that's how i learnt about To-Love-Ru.) It was called World Embryo, and it's great. And quite difficult to find, because it's already licensed in the States. (That means most of the manga sites take it down, claiming i could buy it. Yeah, i could, almost as easily, as from Japan.) But after looking around and searching and a bit of luck i found most of the chapters on MangaHelpers. (If you download there, don't forget to click "thanks!")
The story is great. There's a mysterious infection spreading through electromagnetic waves that turns people into monsters called kanshu and those trying to stop them and find the source of the infection, NEFT, their "annexed department" FLAG, but mostly and only jinki users. There's also a cocoon. The graphics are fantastic, and altogether it's one of the best manga i've ever read.
Luck it's still ongoing. Bad luck is though that chapters are not released weekly but monthly, but who cares, as long as the quality's so great! By the way, the mangaka is the same Moriyama Daisuke, who did Chrno Chrusade.