Living in a city for most of the time it's always surprising just how clear the sky can be and how bright the stars can be once you're in nature. That struck me at Mti Mkubwa too, the first camp on Kilimanjaro. "Oh, so that's why it's called the Milky Way!"
We started the day with a dancing-singing introduction from the porters and guides. It felt like we were at leisure of time, in no rush whatsoever. We woke up "early" of course (compared to when I'd normally wake up) but only left well past eight.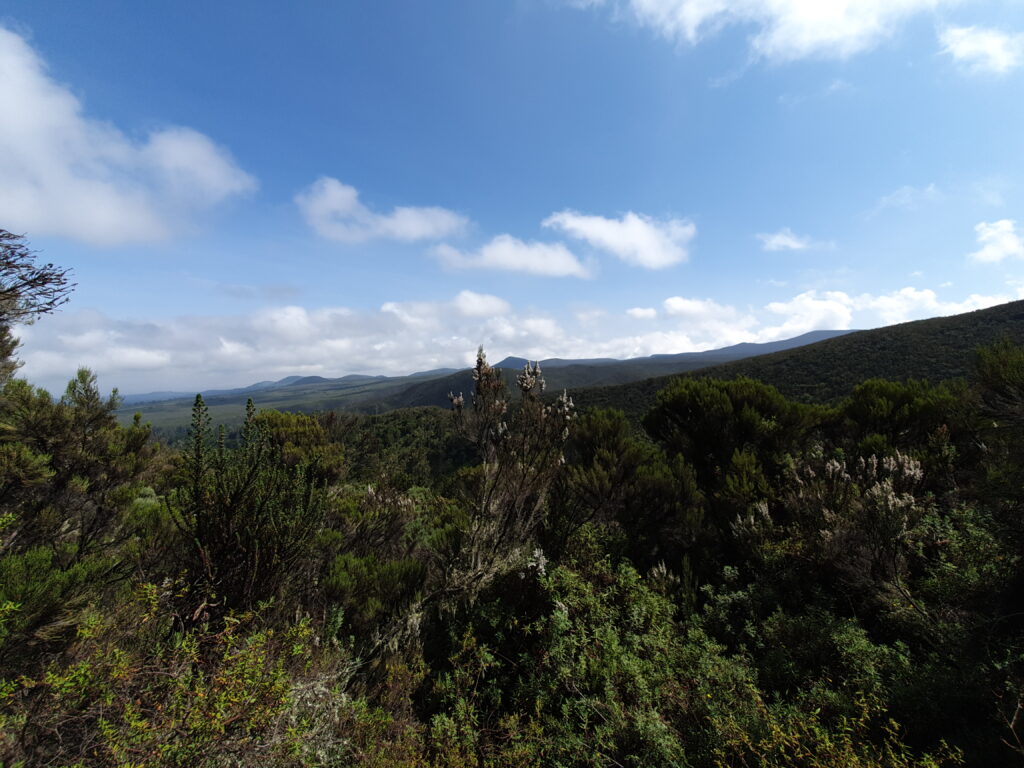 We walked in the rainforest for hours, then the trees gradually grew shorter and eventually turned into the "moorland zone". All the way along the path was dry and extremely dusty, so in no time we were covered in dust as well.
The path then goes up to like 3700m altitude and descends back to around 3500 for the Shira 1 camp located on the volcanic plateau of the Shira caldera. Along the way (sadly) it started pouring down on us, turning all that dust into dirt. You really don't want a leaky tent when the rain starts going in earnest. Once the rain let up, we got our first peek at the summit.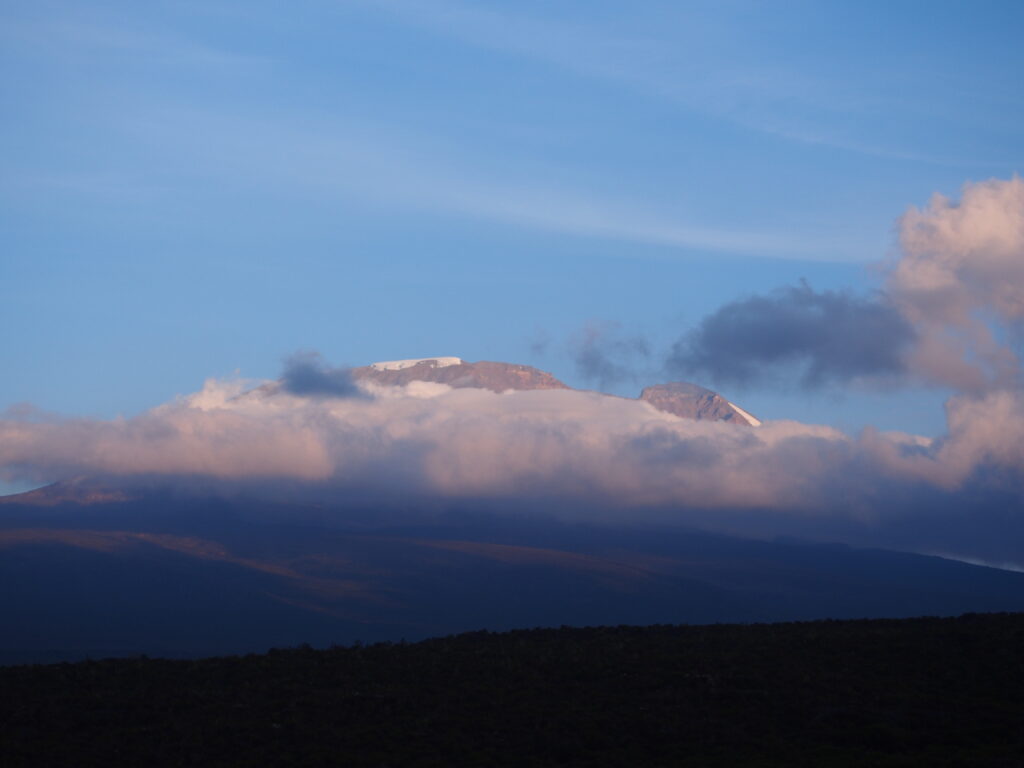 The night was surprisingly cold. Even though we were at "only" around 3500m altitude, by the morning everything was covered in frost (and my sleeping bag in dew). There was still some of it left as we started walking around 8, but disappeared quick as the sun gained strength.
It was a relatively short day to the Shira 2 camp. We gained about 300m altitude and made it to camp for lunch. The terrain was still the same dry moorland all the way. In the afternoon we had a short acclimatization hike up to 4000m.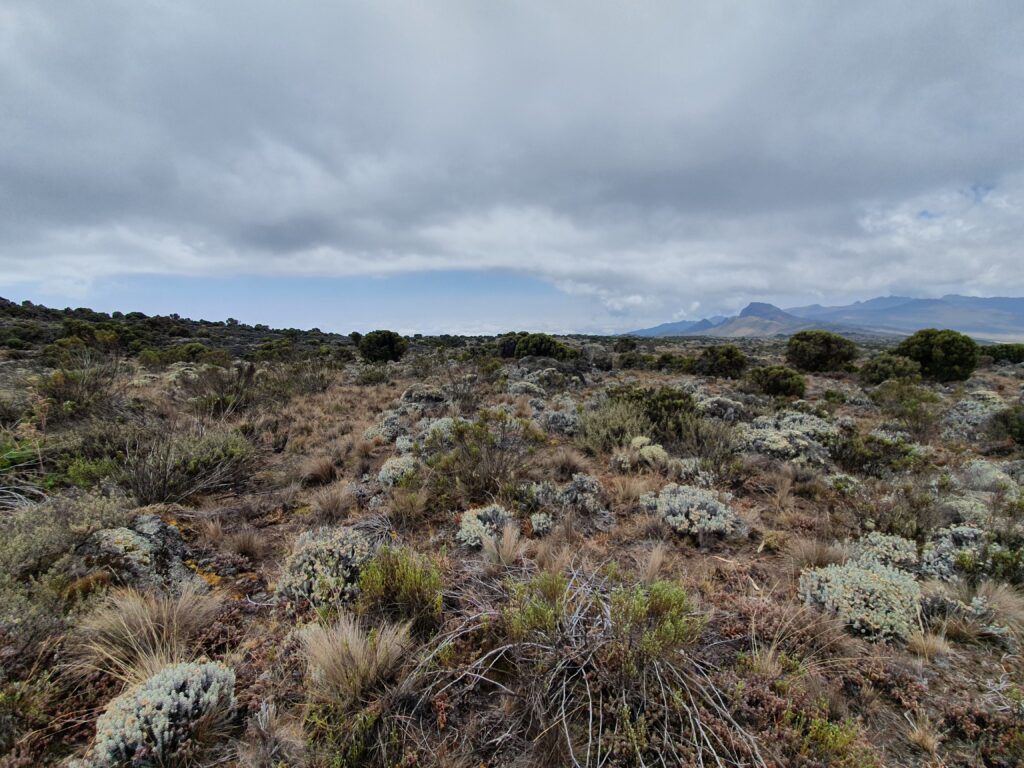 That night was where my adventure took a big punch. I don't know if the problem was that my sleeping bag was too warm and I sweated, but in the morning I woke up with a cold. It wasn't "too bad" in the sense that I could still walk up to the Lava Tower at 4600 the next day without problem, but when we made it down to Baranco camp (3900m) I just crashed into my sleeping bag drained.
I still had it better than the folk who got hit with altitude sickness. Some people started throwing up as we were climbing up to the Lava Tower and it wouldn't get any better for a few days.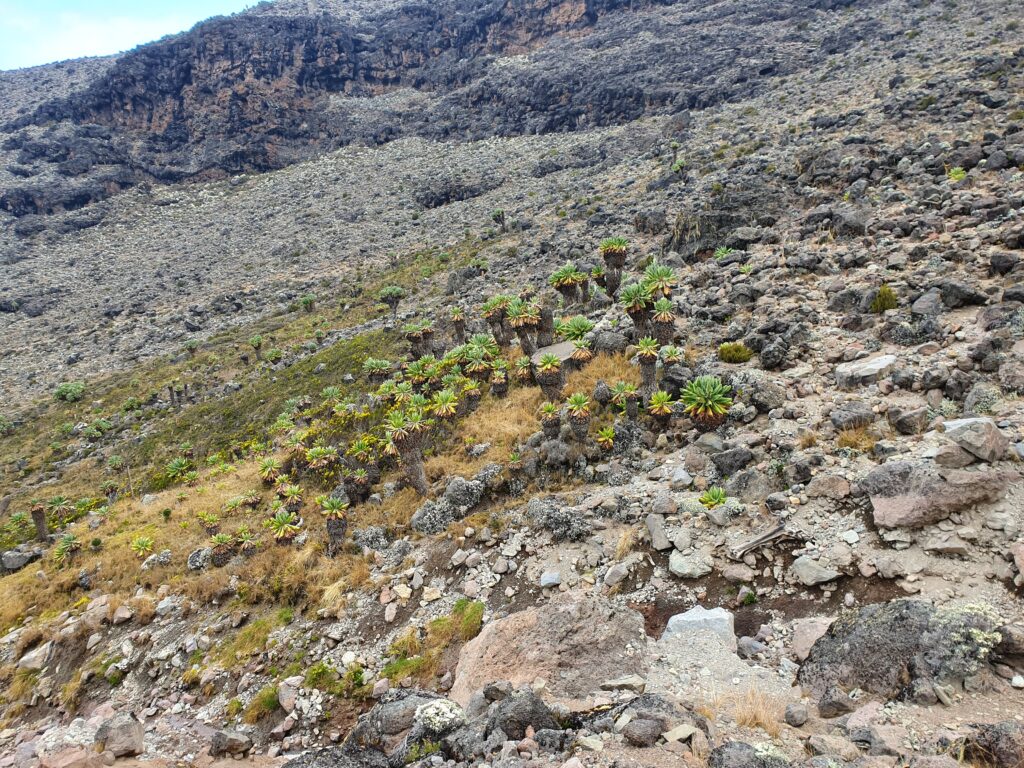 Even with cold meds, walking 5-6 hours a day at altitude of course didn't make my cold any better. I clearly remember climbing the Baranco wall, which is a 300m high cliff right above the camp. I'm used to such terrain from Japanese mountains so I enjoyed it, but many people were pretty scared.