The first time I spent nights in the mountains was back in 2018, when I hiked from Mt Kobushi all the way to Mt Mizugaki. At that point I was staying in mountain huts, so I didn't need a sleeping bag or mat. I think my first time sleeping in a tent in the wild was actually in the foothills of Elbrus in 2019 (not counting sleeping in a tent during summer festivals back in Hungary). Then it was even later, the summer of 2020 that I first stayed in my own tent during a multi-day trip. It was soon after that I actually hiked up a mountain, Mt Kai-koma to stay in a tent at altitude.
Hannah Cowert 2 WS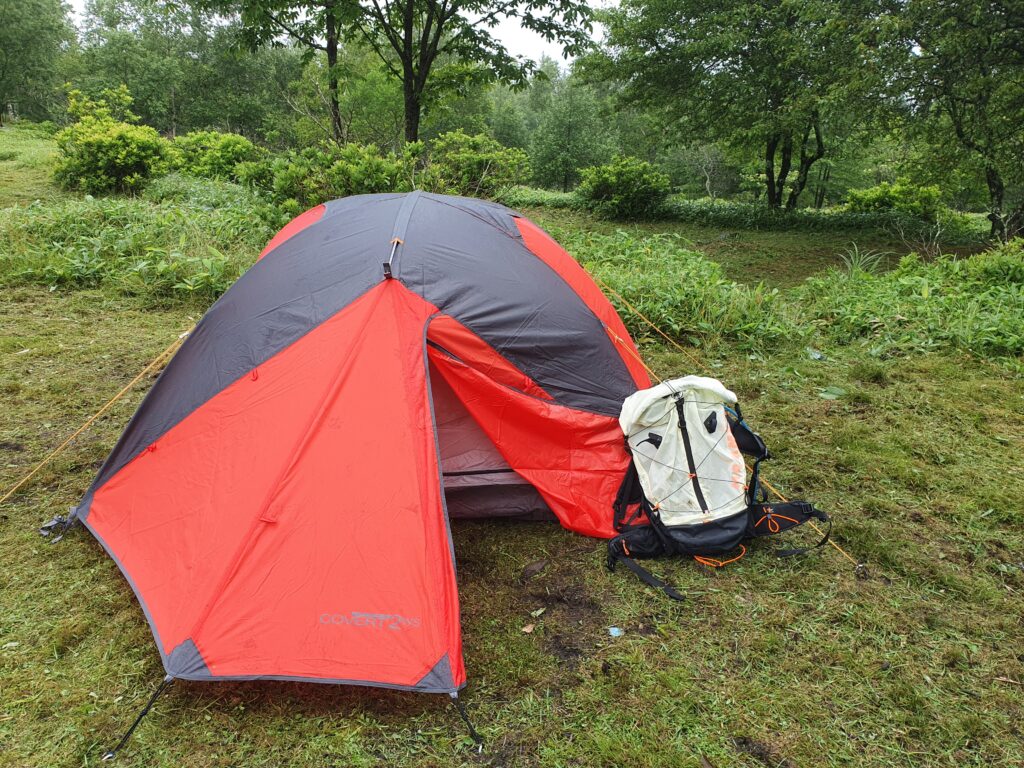 The first tent I bought myself was a Hannah Cowert 2 WS. I didn't do any research beforehand, just walked in to a Mountex in Budapest and bought whatever they recommended.
It's a big (both inside and packed) and heavy 2-person tent. Because of its packed size and weight I've never used it strictly-speaking in the mountains, just camping at the trailhead between dayhikes or camping in general.
Weight: 3.4kg
Packed size: 50x20cm
Good for: camping dates
Slingfin Portal 2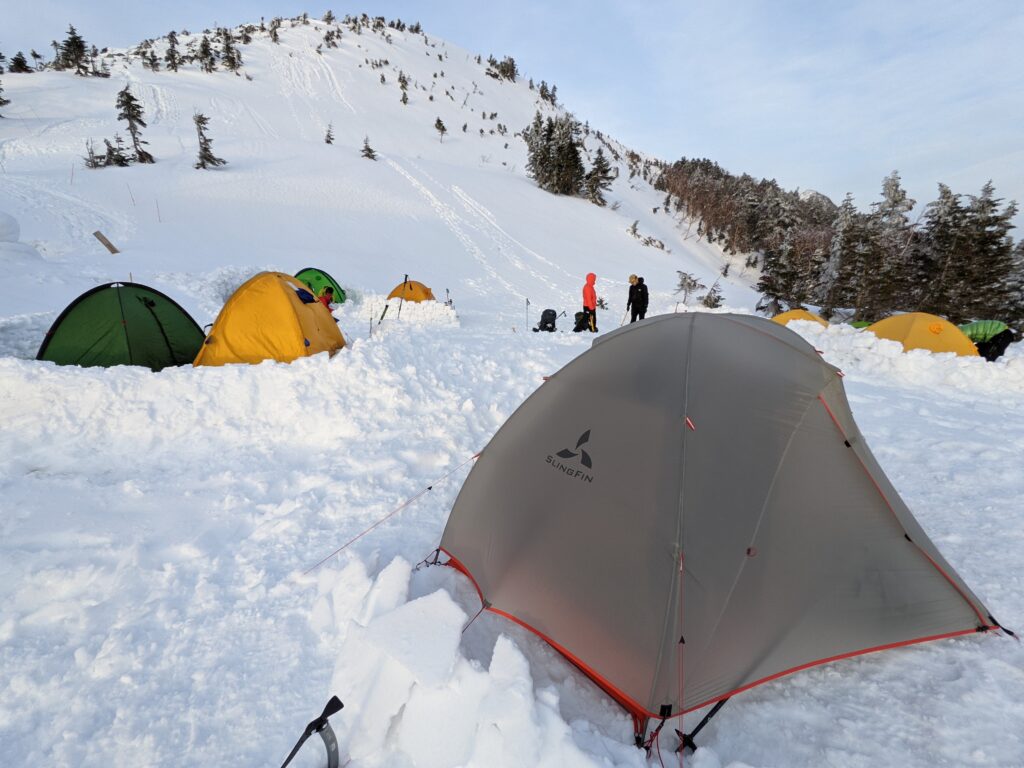 Last year during the covid lockdowns I was watching lots of thru-hikers on Youtube and got more conscious about the weight of my gear. I found the Portal in a comparison list of ultralight shelters, and I ordered it once it turned out none of my other candidates (Nemo Hornet, Six Moon Lunar) were or would be available.
It's about 30cm more narrow than the Cowert, so for 2 people it might get a bit crowded, but it's a spacious option when I'm hiking alone (which is always). It packs neither big nor small, and I usually strap it on the outside of my backpack.
The Portal's inner is a very light mesh that can protect from condensation (or spindrift). It doesn't have any ventilation openings, but the vestibule flies can be kept open to a slit with the provided small sticks. It has never leaked on me (though I've been in a few pretty heavy rainstorms with it) from the top nor the bottom. If pitched foot against the wind it's pretty solid, and if reinforced with trekking poles (attached using provided outriggers) it can withstand quite high winds too.
It's my go-to tent for pretty much any situation.
Weight: 1.7kg (with footprint)
Packed size: 35x15cm
Good for: everything
Zpacks Plexamid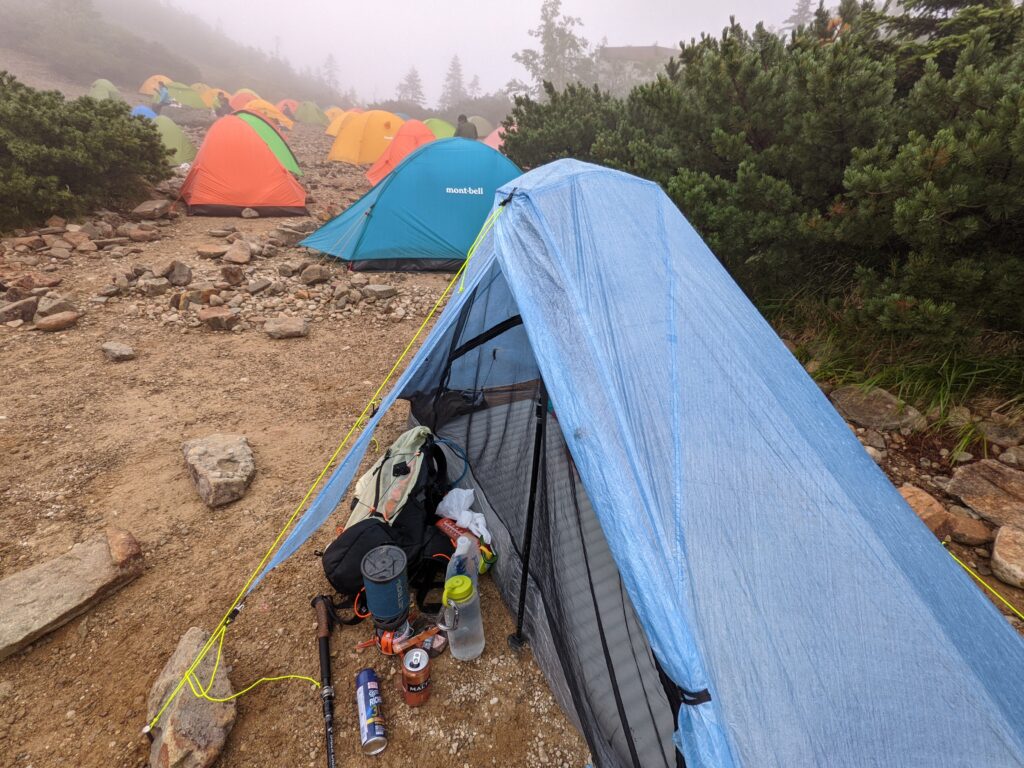 I got the Plexamid as an option for very light hikes. It's a single-wall tent that needs a trekking pole to set up. Pitching the Plexamid right is not easy (it even says so on the product page) and takes practice to get right. When set up right though, it's surprisingly rock solid. Because it's single-wall, condensation is a real problem (I had a small towel just to wipe the inside when I wake up so it wouldn't rain down on me), but picking your battles (weather) well and keeping the vestibule flies half open improves that.
It's quite spacious for a solo tent. I could evacuate all my gear (except my backpack and boots) inside without it getting crowded at all, when a sudden rain turned the ground under into a stream in the Southern Alps. While it packs down small, it's not small enough to fit inside my backpack, and outside I have to be careful because the bag (made from the same Dyneema as the tent itself) can't handle abrasion and got pretty much shredded scrambling on rocks. I had no problems with the durability of the tent itself and I've pitched it on rocky ground a few times (I did manage to break a bunch of the carbon fiber stakes, but that's a different matter).
Weight: 0.55kg
Packed size: 30x10cm
Good for: solo hikes in ideal weather